Mae Fah Luang University Hospital
Mae Fah Luang University Hospital, which was established in 2009, offers both kinds of services; modern medicine and alternative medicine. The modern medicine approach is used in the treatment of patients suffering from common illnesses, emergency cases, during physical therapies, hydrotherapy, dental, dermatology, beauty and anti-aging treatments. The alternative treatments include acupuncture, massage treatments, Thai traditional medicine, apitherapy, chelation and vacuum cupping. Moreover, the hospital facilitates the teaching of students in a wide variety of fields. Skillful and motivated staff work in the hospital to provide a comprehensive service to students, lecturers, staff and the local community. The hospital aims to teach students and progress in the development of alternative medicine.

---
Computer Laboratory
This computer laboratory is a center filled with electronic educational tools to supplement students' learning and training activities, high-performance computers that aid students studying in IT programs.

---
MFU Book Centre (M-Store)
This center's task is to distribute and sell books, educational media, and stationery for students, lecturers, university staff, and the general public.

---
Auditorium and Conference Hall
MFU's auditoria and conference halls are fully equipped with modern audiovisual facilities. They serve both the university and other organizations as venues for seminars, training programs, symposia, and conferences.

---
Food Centres
The canteens on the second floor of D1 Building, on the ground floor of E1 and E2 Building, on the ground floor of M-Square Building, and the food shops near 7-Eleven at M-Square Building, are open from morning to evening, give students and staff a greater variety of dining options.

---
Indoor Stadium and Sports Centre (Chalermprakiat Building)
MFU offers an exceptional range of international standard sporting facilities as well as physical fitness rooms available for all MFU students, staff, faculty, and the general public. MFU has made this great investment in order to promote sports activities, exercise, and fitness to the wider society, and to provide some of the best sporting infrastructure available for people in the North of Thailand.
---
Outdoor Track & Field Stadium
This stadium offers a full-size field for sports and events, as well as a running track.

---
Learning Resource and Educational Media Center
At the MFU Learning Resource and Educational Media Center, there are a variety of resources for studying and researching. There are books, journals, pamphlets, clippings, electronic media and online databases. All current MFU students, faculty and staff are eligible to be library member free of charge.

---
Dormitories
The University has increased its accommodation capacity and offers up to 6,000 beds in 18 dormitory buildings for students. Students' residences are just a ten-minute walk from the main university buildings. Students have privacy within a safe, friendly, and lively learning environment.
First-year students are recommended to stay in the dormitories with the intention of encouraging students to develop their social skills through living together, learning together and helping one another. The student dormitories, which are supervised by University staff and guarded round the clock by security officers, provide desks, beds and mattresses, internet corners, TV rooms and study rooms.
For more information click

---
Transport
Within the campus, free public transportation is provided in the form of EVT (Electronic Vehicular Transport) vehicles. To travel into town or other locations, taxis or minibus vehicles are conveniently available.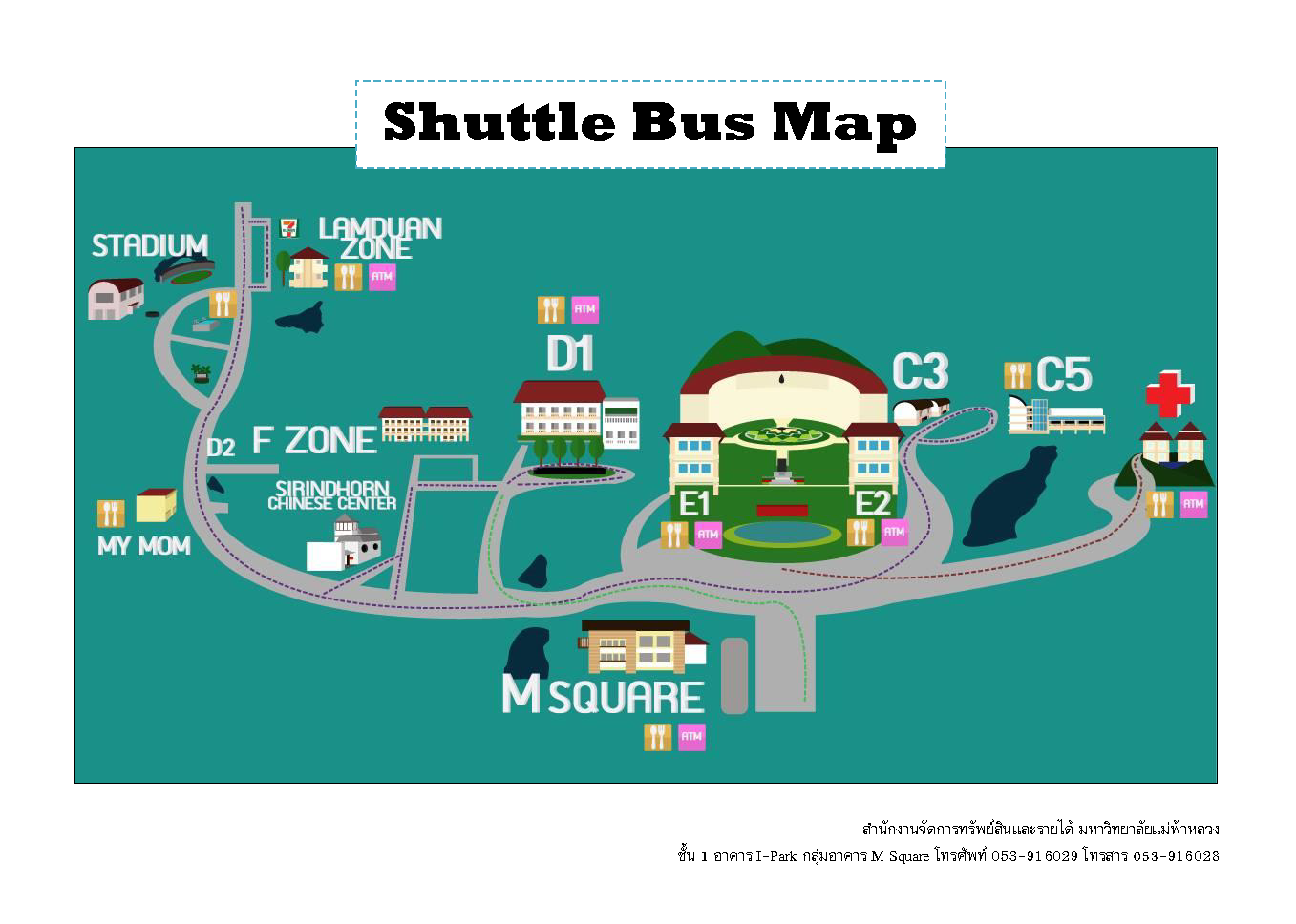 ---
Wi-Fi
Mae Fah Luang University is a wireless campus, providing access to information at any point within the University.

---
Post Office
A licensed on-campus post office offers post services such as mailing and receiving of letters and parcels at the 1st floor of I-Park building.

---
MFU Campus | Guide Map Mae Fah Luang University